Hopex Exchange Rating
Conclusion
Read our Hopex review and learn why we recommend this exchange for online trading and why it is not a scam, learn all you need to know in this Hopex review before you sign up with the exchange.
---
Important update! The hopex.com website seems to be down, this may be a rug pull or exit scam, we hope you have been able to withdraw your money before they disappeared! If you have any info for us regarding the now defunct Hopex crypto exchange please leave a comment or contact us.
---
Hopex Review
Global technology has helped popularize cryptocurrency, making digital currencies like Bitcoin, Etherium, Litecoin, Dogecoin popular. Although these digital currencies are decentralized, they require a centralized way of exchanging them. This is where exchange channels are found. Hopex Crypto Derivatives Exchange is a platform where traders can trade cryptocurrencies. Since its inception, it has gained so much patronage, with many people using it globally for crypto business transactions. Today, we present a review of Hopex Crypto Derivative Exchange: a place where you can confidently embark on your crypto trading or investment journey.
As the need for cryptocurrency increases, the need for a trusted exchanger increases too. The trusted exchanger must be one that can offer the best services for crypto activities such as holding, selling, and buying. For most trusted exchange sites, like Hopex, you will need to create an account to exchange your crypto products or investment earnings.
Many of these sites require a lot of information to maximize their users' safety, authenticity, and record. However, determining a site isn't just about their exchanging service or their sign-up process. It is also about security checks in place for their users.
The right site must possess high standard security measures to protect users' information and protect their trading activities from a third party. Another feature with great importance is privacy; here, a site ensures that users' information is not mined for personal gain.
Also under consideration should be features like volume, liquidity, easy usage, transaction fees, and support. As long as one pays attention to these points before choosing a site, you can be sure that you can confidently exchange cryptocurrencies without a hitch.
As we progress through this review, you will get to know everything about the services offered by Hopex Crypto Derivative Exchange. The information provided here about Hopex will give you the chance to decide if their benefits are more than their cons.
| | |
| --- | --- |
| Exchange platform | Hopex Crypto Derivative Exchange |
| Website | https://web.hopex.com |
| Variety crypto | 100 |
| Account needed | Yes |
| Verification | Mandatory |
| Verification levels | 2 |
| Trading Platform | Web-based |
| Payment Method | Crypto Conversion, Bank account, ACH transfer, Coinbase USD wallet, Wire transfer, Debit/Credit card, |
| Customer Support | Twitter, Instagram, Phone, Wechat, Weibo, Facebook |
What is Hopex Crypto Derivative Exchange?
Hopex Crypto Derivative Exchange was established in 2018 as a trading platform for crypto derivatives. It has its headquarters located in Hongkong and it is registered in the Republic of Seychelles.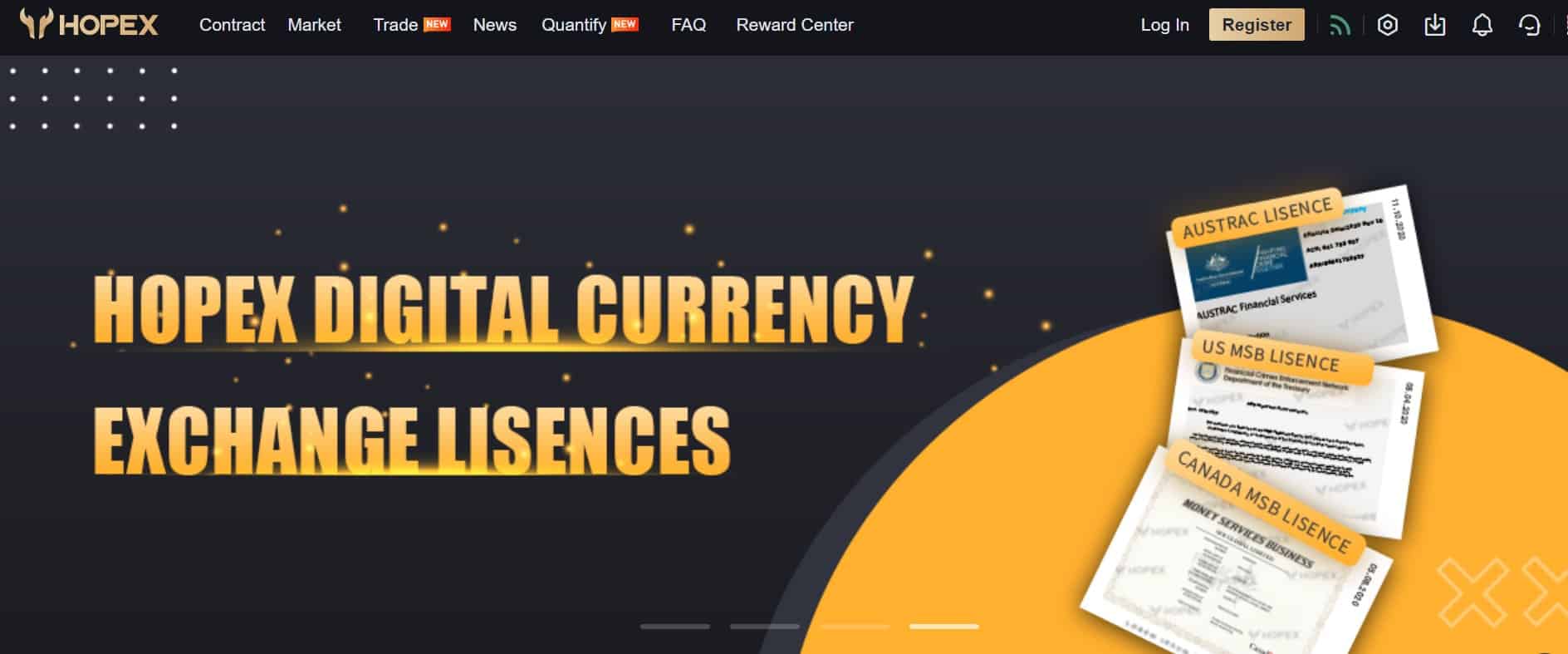 Hopex team members are mainly from Goldman Sachs, Deloitte, JP Morgan, MIT, HSBC, other uncommon technology companies, and famous institutions. All of their team members are financial experts with knowledge of trading well beyond the crypto world. They operate a transparent operation, with fair trading revolving around customer satisfaction in all their dealings. Since its inception, Hopex has been trusted globally by its investors. This confidence is due to the exceptional, operational and managerial crew of the team.
Hopex began with a multi-million level trading corresponding engine, with a large security trader force using marketplace counter arrangement. It ensures it introduces innovations and it rules the famous external market agreement. Hopex strictly ensures users' assets safety is backed up while offering a deposit and withdrawal feature both online and offline.
Trust and confidence are some of the factors lots of the investors considered before transacting business with Hopex, along with the fact that the Hopex exchange platform has high-quality features that keep up with the ever-changing tech world. Incomparable customer support is yet another feature that will make cryptocurrency exchange platforms soar higher in their competitive business environment.
This exchange platform currently has over 600 thousand verified traders with a sum trading volume of over $12 billion. This Hopex trading transaction volume is yet another great feature to build investors' willingness to trust in their service.
Hopex Trading services
Hopex Crypto Derivative Exchange is built for intermediate to expert users, with its advanced trading features. Aided by its state-of-the-art technology, it offers prompt and effortless trading activities to its users.
Hopex Crypto Derivative Fees
A transaction fee is what anyone can use to evaluate an excellent exchange. The aim of every investor is to get a charge of lower exchange fees and get a higher return. It is essential that an exchange platform gives users minimal transaction fees. The fees should be affordable to enable investors to make more profit on the investments. Traders should also note that the different platforms offer various charges to users.
Hopex Deposit and Withdrawal Fees
The deposit and withdrawal fee depends on the chosen transfer method. Generally, the site does not charge more than 20 dollars on both withdrawals and deposits using wire transfer or ACH.
Hopex API
The API used by the platform is among the leading choices available in the business. The API allows users to optimize trading bots to fit their trading system. These bots can stand in place of the investors, making trades where they are programmed to.
They have a detailed page listing out their API for traders to use at will. This information lists out their market details and exchange operations. This page is open to the public, including potential users who are curious to know their market data.
Hopex Liquidity and Limits
There isn't a limitation on the Bitcoin, Ethereum, Bitcoin Cash and Litecoin amount you can put in your account, on the Hopex platform. This includes their daily trading cap for users. As a trading platform, it gives room for users to trade with ease, with little to no worry about their deposit or withdrawal limits.
Hopex Portfolios
Like any good trading platform, Hopex offers a wide range of financial services and trading options, allowing traders to explore multiple financial activities in one place. As a platform, although with a slightly limited trading portfolio, they have a groundwork that assists intermediate and new users to properly understand the flow of the trading market. This groundwork is a haven for expert traders; it allows them to explore and manipulate data to make better trading choices.
This impact on trading offers a seamless experience, permitting a medium-scale portfolio to users willing to reduce their trading risk with the help of a versatile market. This also improves a trader's understanding of the market flow, allowing for better strategic planning and trading decisions, not forgetting that a versatile market means a greater chance of making a profit.
Cryptocurrencies available on Hopex
For all exchange platforms, more currency trading increases not just their usability but their user base. In any platform related to finance, the trading volume indicates a high form of liquidity. This will enable the best and faster price transactions. Higher liquidity entails a low risk in certain financial markets. This is where Hopex leads: offering high liquidity rates and lower risks.
Hopex gives broad crypto assets in support of currencies like USD, EUR, and GPB. The conventional cryptocurrencies used on the exchange site for trading include Bitcoin (BTC), Ethereum (ETH), Litecoin (LTC), and lots more.
Since Hopex operates in multiple countries, the applicable laws in various regions will differ, affecting what currency pairs are available. This is because various laws and regulations are applied to different regions, when it comes to trading cryptocurrencies. In some countries, only a minimal trading pair is supported, restricting what Hopex can offer.
Hopex Crypto interface
The user interface of an exchange should be user-friendly. Hopex explores and maximizes usability on its platform. This is possibly among the reasons why many people choose the site. Although it targets intermediate to advanced crypto traders as a platform, it still offers a simple and navigable interface welcoming enough for beginner traders.
With navigation tags and bright, complementing designs, users can easily navigate and find their way around the site without any tutorial needed. Detailed explanation and responsive navigations are many of the features the site boasts of.
Their homepage lists a contract, trade, market, new, quantify, FAQ, and reward center page. The interface is simple, neat, and it possesses several links to various sections of their services. This is inclusive of various tools suitable for the advanced trader, particularly within the trading page.
How secure is Hopex
With security as the leading discussion among websites, Hopex remains steadfast in giving complete and thorough security and privacy to its traders. Hopex ensures user's security is placed first on its platform. They follow security measures that are conservative, rigorous, and security compliant, to ensure smooth operations.
Hopex makes use of many personal handwritten addresses for withdrawals and deposits. Hopex also has multiple-signed addresses, with offline storage for all transactions. They used this process to avert fraudulent acts entering into their web servers, databases, and trading engines, limiting the harm any hacker can do.
In addition, Hopex ensures no less than two employees verify all withdrawals before payments are made to customers in order to safeguard against fraud. Hopex does not use a cloud server to keep any private keys; it only uses cold storage for most of the funds.
Hopex uses external service for deposit address verification to ensure the transactions include the founder's control keys. The trading will be halted, and the system will shut down quickly if the public key match fails.
The platform relies on Amazon Web Services, a world-class security service provider. They ensure systems request multiple forms of authentications to get access to hardware tokens. An individual system will not be able to communicate with others through the monitored channels except they are approved.
Hopex operates the first and best trading engine. It is written in kdb+, a toolset and database constantly used, through a high-frequency trading app, by the majority of banks. This makes the Hopex engine reliable, with fast speed.
Aside from the speed monitoring, Hopex follows up on every order placement, deposit, withdrawal, trading, and settlement. They ensure all transactions' profit and loss accounts are monitored to remain zero. If not, there will be a suspension in the transaction.
As scam activity increases on the internet, a crypto exchange platform must ensure it guards its platform from fraudsters and scammers. This will allow a safeguard of users' funds. The privacy and security features should be paramount in every cryptocurrency exchange platform to make it safer for its users to trade without worry.
Hopex ensures total KYC (Know Your Customer evaluation). They also operate using Anti-Money Laundering (AML) practices. For this, they will require that you give your details, including your email address, name, driver's license, set password, and other information. They offer a multi step verification coupled with lots of security measures on the platform.
Customer support
Hopex employs capable and qualified employees to handle its operations without a hitch. The employees ensure they vet every transaction properly before approval. Hopex phone support renders prompt service for emergency cases while attending to inquiries and solving difficulties experienced by traders.
Despite the increase in customer base, the team does not relent in being committed and responsive to customers' requests and queries. When users notice a compromise or suspicious transaction on an account, the platform will block such an account and transaction until clarity is made.
Hopex offers a Twitter community page where the latest information, news, and updates are regularly made. Users can follow them and keep up to date with the platform's new changes. This ensures that users remain informed about the latest changes in the tech world.
Their Instagram page is mostly used to inform and educate users of the latest crypto news and how it will affect or influence the trading services offered within the platform. Traders, new and old, can follow the handle to remain in sync with the site.
Hopex Crypto Derivative Exchange offers a mobile line that traders can use to make urgent requests for emergencies. The mobile line works best for cases such as suspected fraud, wrong transaction activities and complaints. A representative will be available to attend to you, rectifying complaints immediately, where possible.
Their WeChat account is an excellent place to make FAQ inquiries and clarify minor complications and confusions. Messages can be left for a representative to attend to later, or you can request a live chat with any of their representatives.
This is yet another communication method where users can lay complaints and make inquiries. A representative is always available for a live chat, while regular platform news is shared with users.
Their Facebook community page is a great place to connect to other traders and learn strategies and other innovative ways to maximize your use of the platform's features. The Facebook platform also offers news and other exciting promos, events, rewards, and more. Major announcements are made through this platform, and messages can be left here. However, note that replies can sometimes take up to 24 hours.
There is a message board within the webpage where users can communicate with representatives' live. The icon of a call rep is on the right top of the webpage and will automatically redirect you to a representative.
All of their communication channels are attended to by expert customer support representatives who are helpful and knowledgeable on how to utilize the site and its features. Choose mobile phone communication as your primary option for immediate and extremely useful solutions.
Conclusion
An analysis on the platform shows that they are not just managed and controlled right, they are also operating for the traders. Security as a major cause for concern is tackled extensively through the use of state-of-the-art encryption. With the assistance of an expert third-party security team, users can be rest assured that personal and business-related details are kept to themselves alone.
Looking towards their interface and features will show how ready they are to make trading easier for all levels of traders. Advanced traders get all the features they need to make expert decisions and trade wisely. As well, beginner traders enjoy easy-to-navigate websites with name tags and links to various points on their web page.
Their vast portfolio and API make trading easy. It leaves the platform as an all-in-one option solving multiple trading needs and requirements. Of course, we cannot forget their reward program, granting users a chance to earn within the site. The program is not only a great way to attract users, but users can aim for multiple winning chances in one place. This is a clear win-win situation.
Let us look towards their currency exchange options. Even with limitations, there is a lot of diversity available on the platform, allowing less risk. Their liquidity level is encouraging but not as much as their zero caps on withdrawing, depositing, and trading.
Finally, it is clear, without reasonable doubt, that there is much more traders can gain than they can lose from this platform. With a detailed verification process, you too can be a part of the benefits and features offered and explored each day by users.
Hopex Exchange Rating
Conclusion
Read our Hopex review and learn why we recommend this exchange for online trading and why it is not a scam, learn all you need to know in this Hopex review before you sign up with the exchange.
---
Tokenhell produces content exposure for over 5,000 crypto companies and you can be one of them too! Contact at info@tokenhell.com if you have any questions. Cryptocurrencies are highly volatile, conduct your own research before making any investment decisions. Some of the posts on this website are guest posts or paid posts that are not written by Tokenhell authors (namely Crypto Cable , Sponsored Articles and Press Release content) and the views expressed in these types of posts do not reflect the views of this website. Tokenhell is not responsible for the content, accuracy, quality, advertising, products or any other content or banners (ad space) posted on the site. Read full terms and conditions / disclaimer.