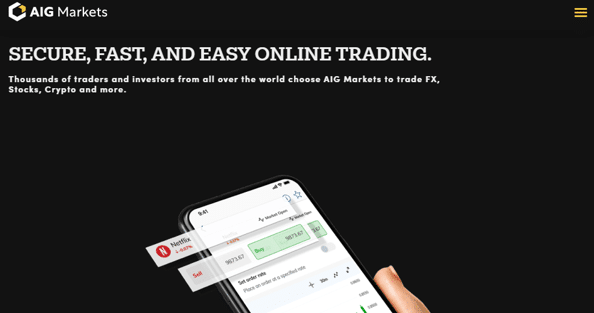 Choosing a broker had always been daunting, and I came across AIGMarkets.
As an online trader, you have a lot of different choices when it comes to selecting a broker. The type of broker you choose will depend on your trading goals and strategies. There are brokerage firms specializing in specific types of trading, and there are also generalist firms that offer various services.
For example, suppose you are a day trader who relies heavily on technical analysis. In that case, you will want to choose a broker that provides direct access to the markets and has powerful trading software.
On the other hand, if you are a long-term investor less concerned with day-to-day price movements, a full-service broker with an extensive research department may be a better fit.
Ultimately, the best broker for you is the one that can best meet your needs.
I find it all relatable because I have been through all of it. Therefore, I decided to share my happy experience with this broker. I hope this review will be helpful for people who doesn't know the winning and weak points of a brokerage company?
In this review, I will look at AIGMarkets, a brokerage firm that offers various services to its clients. I will evaluate the firm on several critical criteria, including account types, customer service, and trading platforms.
What Is AIGMarkets?
AIGMarkets is international forex and CFD broker, offering more than 200 tradable assets across major asset classes, including forex pairs, cryptocurrencies, indices, shares, and commodities. The company is headquartered in Australia but also has an office in London.
Besides next-generation technology, rapid order execution, lucrative spreads, and 24/5 customer support, AIGMarkets claims to offer exceptional trading conditions.
Furthermore, it provides four types of accounts catering to the needs of different investors that I will list later in this review.
As a leading digital trading platform, AIGMarkets says its mission is to provide traders with market data, instructional resources, eBooks, and videos to help them make well-informed decisions.
What Are Potential Benefits of Investing with A Brokerage Firm?
There are several reasons to want to invest with a brokerage firm, but some of the most common causes include:
– Access to A Wide Range of Investments
One of the most significant benefits of working with a brokerage firm is the variety of available investment options for investing. You have access to stocks, bonds, mutual funds, and exchange-traded funds (ETFs) through a brokerage, providing you with various choices for building your portfolio.
It can be beneficial if you're starting as an investor, as it allows you to explore different types of investments and find those that best fit your needs and goals. And as your needs change over time, you can constantly adjust your portfolio accordingly.
– Convenience
When you invest with a brokerage firm, you can do so from the comfort of your own home. You simply need a working internet connection and a computer or mobile device.
It makes it convenient for busy people who might not have the time to visit a brick-and-mortar broker. It also allows you to do your research and make informed investment decisions at your own pace.
– Support
When you invest with a brokerage firm, you have access to customer support if you have any questions or concerns. If you are new to investing, a brokerage firm can provide guidance and advice to help you get started.
– Cutting-edge Tools & Strategies
Brokerage firms offer a variety of tools and resources that can help you make better-informed investment decisions. For example, most brokerages provide investment analysis, whether in articles, videos, or webinars.
In addition, many brokerages offer trading platforms with features such as real-time quotes, charts and technical analysis tools, and the ability to set up price alerts. These tools can give you a leg up in the investment world, helping you make more informed decisions and confidence to execute trades with ease.
What Are the Account Types On AIGMarkets?
AIGMarkets offers four different account types: Basic, Silver, Gold, and Platinum. All four account types provide access to the same range of markets and products. The main difference between the accounts is the level of service and support you will receive.
– Basic
The Basic account is designed for new or inexperienced investors. It offers a lower leverage ratio of 1:100 and does not provide access to a personal account manager.
– Silver
The Silver account is designed for intermediate investors. It offers a leverage ratio of 1:200 and provides personal account manager access. Additionally, it gives access to high-profile events, promotional events, risk management, and financial planning.
– Gold
The Gold account is designed for advanced investors. It offers a higher leverage ratio of 1:300 and provides personal account manager access. Additionally, it provides all the benefits of the Silver account, plus complete market analysis, training sessions with top analysts, and advanced trading tools.
– Platinum
The Platinum account is designed for professional investors. It offers the highest leverage ratio of 1:400 and provides personal account manager access. Additionally, it provides all the benefits of the Gold account, plus VIP spreads and complete access to trade room analysis, webinars, and private sessions with analysts.
What Are The Plus Points of AIGMarkets?
Here are some beneficial aspects of trading with AIGMarkets according to my experience:
It Is A Decent Trading and Learning Platform
I began my investment journey with AIGMarkets, and it has been a decent platform for learning and trading. I made some excellent profits initially as I was new to online investments. The AIGMarkets team helped me with all my queries related to online trading.
The company's educational resources are quite helpful for novice investors. Traders can use the webinars, tutorials, and e-books present on the AIGMarkets website to gain more insights into online trading and review their trading strategies.
It Provides a Good Range of Tradable Assets
The company offers many tradable assets, including forex, indices, stocks, commodities, and cryptocurrencies. So, traders can find a wide array of options to choose from while making their investment decisions.
I prefer investing in forex pairs and have found AIGMarkets to be decent in this regard. The company's spreads are also competitive compared to other brokers in the industry.
Customer Support Is Prompt and Responsive
I have had a few queries related to my trading account and the platform itself, but customer support efficiently responded to my queries. The team is quite knowledgeable and helped me sort out my issues without delay.
The Trading Platform Is User-Friendly & Functional
I find this trading platform to be quite user-friendly and functional. It consists of the necessary features and tools that a trader needs to make informed investment decisions.
How to Contact AIGMarkets?
There are many ways to contact or talk to a representative on AIGMarkets. The live chat feature on their website is always available, and I found the representative to be quick and helpful. You can also connect with them via call, contact us form, or email. All of the necessary information is shared on the Contact Us page of their website.
What Are The Areas of AIGMarkets That Need Improvement?
When I am looking at a trading website, one of the things that I consider is how easy it is to find the Contact Us page. It is a critical section because it shows that the company is willing to listen and address concerns.
With AIGMarkets, I feel like the Contact Us page is a bit hard to find. This page should be more prominently displayed, as it would make it easier for clients to get in touch with the company.
Moreover, the asset index could be more comprehensive. I would like to see a few more assets added to the list in the future.
The charting tools could be more advanced. I would like to see more indicators and technical analysis tools available to traders.
Final Verdict
I feel that AIGMarkets is a decent online broker, and I am pleased with my experience. The company offers plenty of tradable assets, educational resources, customer support, and more. Obviously, some areas are not of top-notch quality. However, I have hope that the company can efficiently work on them.
I also hope that this review gives you some perspective on this company and what to expect from it.
And lastly, don't forget to share your experiences with me. If you have ever invested with AIGMarkets, I would love to know your two cents. Could you keep them coming in the comments below?
Disclaimer: This review is written from the guest authors own experience and their self-knowledge only, and this is not a recommendation.
---
Tokenhell produces content exposure for over 5,000 crypto companies and you can be one of them too! Contact at info@tokenhell.com if you have any questions. Cryptocurrencies are highly volatile, conduct your own research before making any investment decisions. Some of the posts on this website are guest posts or paid posts that are not written by Tokenhell authors (namely Crypto Cable , Sponsored Articles and Press Release content) and the views expressed in these types of posts do not reflect the views of this website. Tokenhell is not responsible for the content, accuracy, quality, advertising, products or any other content or banners (ad space) posted on the site. Read full terms and conditions / disclaimer.