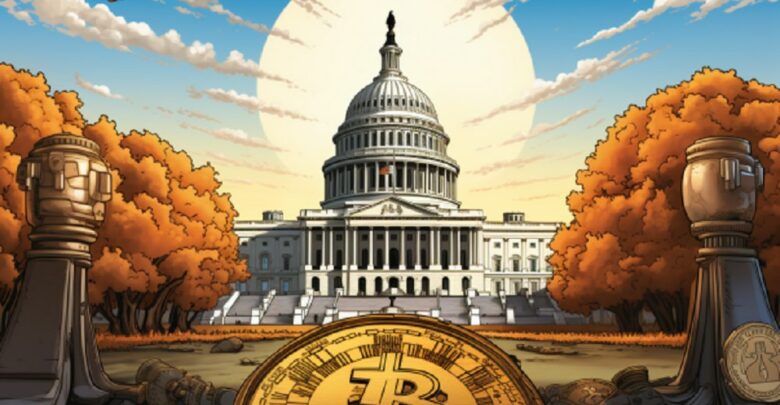 Little Impact On Crypto
The threat of government shutting operations is gathering pace in the United States as heated debates continue over government spending extending into the fiscal year's final months. Given such shutdowns' extensive implications, there are fears of a halt in funding various critical federal agencies and services.
The crypto community is also on edge as the October 1 deadline draws near as lawmakers haven't reconciled the government budget for the upcoming fiscal year. Hence, many industry observers and players worry about the impact of this shutdown on the crypto industry, given that the sector is still growing and is vulnerable to regulatory shifts and government decisions.
Government Shutdown Explained
A government shutdown, which is most commonly associated with the federal level of administration, can occur at any level of government. Government shutdown is defined as the interruption of operations in non-essential government agencies and services due to a lack of financial resources.
Furthermore, this financial shortfall is typically caused by Congress's inability to reach an agreement on allocating funds for the next fiscal year before the current one ends. A government shutdown affects many aspects of public life.
However, law enforcement, national security architectures, and public health services will continue to operate normally while a significant portion of government activities are grounded. Nevertheless, entities like the Securities and Exchange Commission (SEC) and the judiciary will continue to function.
This is especially important in the crypto industry because these agencies actively oversee the ongoing legal battles and pending applications for spot crypto exchange-traded funds (ETFs). On the other hand, national parks, museums, and several other regulatory agencies may be forced to close their doors temporarily.
Moreover, non-essential federal employees will only work with pay once Congress makes its resolution. It is important to note that the implications of a government shutdown go beyond the immediate disruption of services.
It significantly impacts the economy, causing uncertainty and eroding public trust in the government's ability to manage its affairs effectively. The end of government shutdowns depends on the readiness of lawmakers to reach an agreement on the budget for the next fiscal year.
Any Hinderance To ETF Applications?
During a government shutdown, the courts and the financial regulatory agency are expected to continue operating, albeit with some limitations. Hence, Gary Gensler, chairman of the SEC, recently revealed that the commission would work with a "skeletal staff" in such a scenario.
Gensler's statement indicates the prioritization of cases where they believe investor funds are at risk. The SEC has continuously reiterated that the commission is committed to ensuring user protection.
Even if the government shuts down, deadlines in SEC's ongoing lawsuits against crypto firms like Binance and Coinbase are unlikely to be affected. For instance, in the case against Coinbase, the agency has been working diligently on responding to the exchange's motion to dismiss since early August. It is scheduled to submit its response by Tuesday, October 3.
Furthermore, the deadline for filing the SEC's response to dispositive motions in the case against Binance is November 7. While a delay can't be partially ruled out, it is considered unlikely, given the regulator's emphasis on urgency in its filings.
Likewise, a government shutdown should have little to no impact on spot Bitcoin and Ethereum ETF applications. However, the US financial watchdog is leaning toward deferring decisions on multiple applications.
The SEC's intent was evident earlier in the week when it extended its approval timeline for Ark 21 Shares and Global X spot Bitcoin ETF applications to January next year. Meanwhile, the deadlines for the other seven Bitcoin ETF applications, including Blackrock, Bitwise, Fidelity, Invesco, VanEck, and Valkyrie, are set to take place between October 16 and 19, 2023.
While a government shutdown increases the likelihood of the SEC delaying decisions on these applications, it is unclear whether the regulator would have chosen similar postponements regardless of the shutdown.
---
Tokenhell produces content exposure for over 5,000 crypto companies and you can be one of them too! Contact at info@tokenhell.com if you have any questions. Cryptocurrencies are highly volatile, conduct your own research before making any investment decisions. Some of the posts on this website are guest posts or paid posts that are not written by Tokenhell authors (namely Crypto Cable , Sponsored Articles and Press Release content) and the views expressed in these types of posts do not reflect the views of this website. Tokenhell is not responsible for the content, accuracy, quality, advertising, products or any other content or banners (ad space) posted on the site. Read full terms and conditions / disclaimer.