Payback LTD
CONCLUSION
Payback LTD is a fund recovery platform that allows users to recover their assets or funds from scammers or fake firms. With the intuitive Payback LTD user interface, users can easily secure the services of top-performing professionals on the platform. Payback-ltd.com also offers a range of educational resources and tools to help investors make informed decisions.
---
Payback Ltd Review
Scammers usually put up a disclaimer: clients cannot recover money if lost. With this disclaimer, scammed victims do not see through the scam and are forced to accept their loss as an investment risk. However, with institutions like Payback Ltd, everything is not lost for victims of online frauds.
Overview
Established in 2008 in Israel, Payback-Ltd.com protects investors from online frauds with a focus on unregulated Forex and Binary Options brokers. They are able to do this by damaging the processing and banking funnels of these brokers. They have helped many victims recover their funds. The Payback team is made up of highly skilled and experienced professionals who have either worked in the crypto and options market, or in cybercrime law and international banking.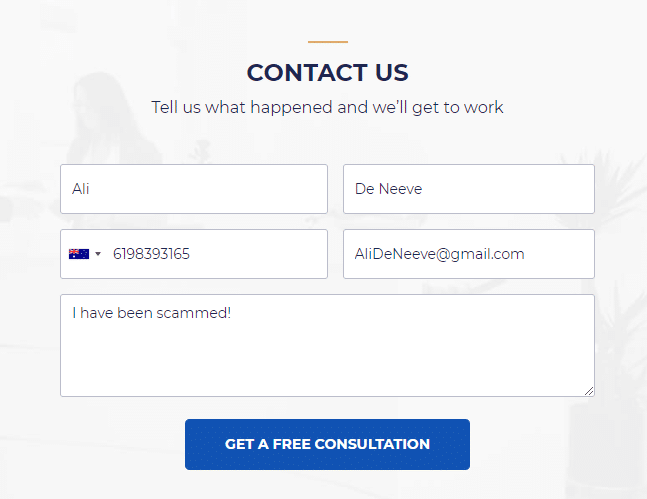 Payback Ltd researches brokers and their management, exposing the loopholes inherent in these companies in order to retrieve the funds of victims. They use international banking laws to reverse payments made to fraudulent brokers. Usually, clients are required to pay an advance fee to initiate the process and a success fee after the process is complete. Payback-Ltd.com uses all means possible to recover clients' funds and only stop when they have run out of options.
Generally, funds are recovered through a simple four-step process:
Review details of the complaints
Collect relevant documents
Confront owners of brokerage firms and their banks
Claim funds
The Services
When a claim is made, the claimant receives full guidance and consultation from Payback's experienced professionals. They are committed to keeping the claimant informed throughout the entire process while offering them guidelines on how to protect themselves online.
Payback Ltd provides money refund services in the following areas: Forex, Binary Options, Stock Trading and Cryptocurrency.
They agree that victims can attempt to recover their money on their own, however this is often a difficult process. And that is why they are available to expedite the process and ensure that the funds are recovered.
Although Payback-Ltd.com promises their clients to do all they can to retrieve their funds, they believe that clients should first protect themselves to prevent being scammed. For Payback Ltd, it is imperative to educate clients on the different types of scams peculiar to each service area.
Visit payback-ltd.com and Get Your Money Back
---
Forex
The common scams they advise clients to look out for are:
Signal services: These organizations claim to offer information on market movements. A client can spot a fraudulent signal service through the following signs: subscription fees, unverified results, and broker-tied signals.
High Yield Investment Programs (HYIP): These are usually Ponzi schemes that use the funds of lower-tiered investors to pay the original investors.
Forex robot scams: Forex bots are used to automate trading processes. They study market movements and execute trades automatically, usually with improved trading outcomes. However, there are bots that are designed to defraud unsuspecting clients. These bots provide inaccurate market information, promise unrealistic high ROI, and suggest that clients use unregulated brokers to achieve best results.
Spread markups and commissions: Unregulated brokers often manipulate bid and ask prices by adding markup to widen the bid-ask spread being paid on their platforms. By doing this, they earn more for every trade at the expense of the investor.
Visit payback-ltd.com and Get Your Money Back
---
Binary Options
Common scams peculiar to binary options are:
Scam trading accounts: The features of such accounts include:
Unusually high ROI.

Initial deposit is required for trading, after which the client receives a bonus. But before a withdrawal can be made, a client is needed to make profits above the given bonus.

In a case where the clients loses, they are contacted to make even higher deposits.
Broker managed accounts: There are fraudulent brokers that offer clients trading accounts claimed to be managed by ex-Wall Street experts who promise high returns. Clients are asked to make a significant deposit, then the money is locked up — that is, the clients wouldn't have access to their account, neither would they control their funds.
Trading software: Other brokers offer trading tools to their clients which would elevate their trading status from an amateur to a pro with just few clicks. But these tools are scams designed to siphon the clients' funds.
Withdrawal or platform issues: Brokers often pretend that their platforms are having a downtime. This may seem harmless at first and is often followed by profuse apologies, especially to customers who cannot withdraw their earnings. When these clients contact support to seek assistance to make withdrawals, they are asked to present proofs through a hectic process. In other cases, the brokers simply disappear without a trace.
Visit payback-ltd.com and Get Your Money Back
---
Stock Trading
Some stock trading scams are:
Education scams: Scammers often front as educational trading platforms and provide educational courses to inexperienced traders. They often use a four-step pathway to do this: (1) The client is contacted to enroll in a course which will catapult them from a newbie to a pro and also guarantee them high returns. (2) Clients sign for a short course (say three hours) for a low fee. (3) Course progresses normally but soon turns into a sales pitch promising more advanced trade secrets for a higher fee. (4) Soon, a $200 course becomes a $5,000 weekend retreat. And the client gains no educational content or expertise.
Refusal to process withdrawals: One method unregulated brokers use to defraud clients is by simply refusing to process withdrawals. This method is usually subtle as they will never tell the clients explicitly that they wouldn't process withdrawals. What they do is to employ any of the following gimmicks: (1) claiming they can't verify client's identity and, thus require further proofs, (2) asking clients to make further deposits as part of the verification process, (3) outlining terms and conditions not related to the client's case, or (4) not taking calls and block other communication channels.
Signal service scams
Trading bot scams
Visit payback-ltd.com and Get Your Money Back
---
Cryptocurrency
Crypto trading scams outlined by Payback-Ltd.com include:
Advance Fee and Ponzi Schemes: Scammers usually pose as royalties from certain countries and demand funds from their victims in crypto, usually Bitcoin. The Ponzi schemes usually use certain strategies such as: promising that an important individual —maybe a celebrity — is airdropping a huge amount of crypto; offering a giveaway; or requesting help unlocking a huge sum of crypto with the client's smaller sum. Victims are usually told to send their crypto assets to a particular address, with a guarantee that they would receive high returns. Once this is done the asset is lost and almost irrecoverable.
Fake exchanges: These exchanges lure users by promising them the opportunity to buy cryptocurrencies at massive discounts. Users are asked to sign up and deposit funds. After this is done, the exchanges disappear. In another scheme, they may offer users the opportunity to sell bitcoin for Paypal funds. The Paypal address is supplied by the user, while the exchange asks the user to send the bitcoin to a particular wallet address. When this is done, the user never receives the fund in their Paypal address and the exchange vanishes from the internet.
Fake ICOs: PaybackLtd warn individuals to be wary of new coins created and sold to the public. Scammers often capitalize on the greed of inexperienced investors to sell fake coins. Their strategy usually involves projecting a fake coin as a solution or product that would change the world. They promise high returns, often with technical language designed to confuse the investors. Then, they go ahead to offer mouth-watering discounts. Normally, users are asked to invest in the new coin using their own crypto assets — this means that users exchange their real coins for fake, worthless coins. When this is done, the scammers disappear and blot out their internet presence.
Trading bots scams
Aside their refund services, Payback-Ltd also educates people on how to protect themselves when shopping online. Some of their tips include:
Shoppers should choose only a company they are familiar with, e.g. Amazon.

They should check reviews to see the opinions of other shoppers. But Payback Ltd leaves a caveat here: Online reviews are usually brutally honest, however it is expedient that online shoppers verify their sources. This is because online marketing is becoming increasingly popular on review sites.

Shoppers should use sites protected by SSL as this provides a level of encryption which protects transactions and verifies the owner of the website.

Online shoppers should never place their credit card information on a site without PCI/DSS (Payment Card Industry Security Standard Council/Data Security Standard). Recovering money from such platforms is almost impossible.
Visit payback-ltd.com and Get Your Money Back
---
Criteria for assessing claim
When a client contacts Payback Ltd to make a claim, they would talk to a claims analyst who would evaluate the claim and assess the feasibility of recovery. Some of the questions that would be asked include:
Who was the money sent to?

How was the money sent (credit card, cryptocurrency, wire transfer)?

What country governs the banking laws of the victim?

What date was the transaction made? (The reason for this is to know if it is too late to recover such funds.)
The method through which money were transferred would determine the banking laws that would be circumvented to recover the funds. Transactions processed through credit cards are usually easier to reverse than wire transfers or cryptocurrency. Wire transfers are easier to reverse than cryptocurrency transactions.
By stating the country that governs that banking laws of the victim, Payback Ltd is able to assess the level of difficulty they would face while attempting to reverse the stolen funds. For example, credit card transactions are easier to reverse in Australia than in the United Kingdom. While wire transfer reversals are easier in Canada than in the United States.
For Payback Ltd, time is of utmost importance. Reversing transactions usually follow strict time frames especially with credit card and wire transfers. Therefore, the company would consider this before taking up a claim.
Payback Ltd would need the following information during the recovery process:
Receipt or confirmation of transaction (bank and credit statements are also accepted)

The advertisement or webpage of the brokerage firm

All correspondence between the victim and the broker

Any additional information that will assist Payback Ltd in retrieving the funds quickly and safely
Visit payback-ltd.com and Get Your Money Back
---
The Fees
After the claims analyst has evaluated the claim, the victim is charged a fee to process the claim. This fee ranges from $600 to $1200, which may be higher depending on the case. The victim is also informed about a success fee which is a percentage of the recovered sum. Usually, the pricing formula is case-specific. For instance, a client could pay a processing fee of $700 with a 10% success fee, while another client could pay $2000 with a 5% success fee.

Recovery process
Once the client agrees to the terms, the case is forwarded to a recovery agent. The agent works with the victim and builds the case with the victim. At this stage, the victim is required to provide information about the transactions and communications they had with the fraudulent broker. This include providing bank statements, email correspondence, recorded phone calls, text messages, contracts, and so on.
Recovery agents are English-speaking. They are usually highly skilled experts with a vast wealth of experience. A recovery agent could be a former vice-president of bank's recovery department, an expert in banking laws, a forensic accountant, a former manager of the recovery department of a brokerage firm, or a chartered financial analyst. Before a case is assigned to an agent, the agent is required to go through a 3-month training course in funds recovery.
"Poacher turned gamekeeper" is a unique approach employed by Payback Ltd to recover funds. This involves hiring people who had been involved in online fraud in the past in order to use their knowledge and experience to track fraudulent brokers.
Cancellation and Refund
There are situations where the victim may decide to adjust or cancel a claim, and request a refund. This can happen when the client provides incorrect details such as name, date, amount or gender. Or Payback-Ltd.com doesn't provide the precise service requested by the client. In any of these cases, the client is entitled to cancel the process and receive a refund.
Visit payback-ltd.com and Get Your Money Back
---
Testimonials
On their website, Payback Ltd doesn't have many testimonials. This questions their claim of having helped hundreds of victims get their funds back. However, the site has a rating of 4.4/5 — an indicator of their professionalism. Some of the testimonials on the site include:
Michael Cowen from Australia who said that getting into Forex not only made him lose his family savings, but also made him lose his family. He felt devastated when he realized it was all a scam. However, with Payback Ltd, he was able to recover his money and his hope for the future was restored.

Huw Roberts from England stated that he was promised to be made a millionaire after a month, but he never saw his money again. But not only did Payback Ltd recover his funds, he was able to get back at the fraudsters.

Giampaolo Baldin from Italy was scammed by a company called "Financial Brokers" and Payback Ltd helped him retrieve his funds.

Monika Suchecka from England called herself a fool for risking her house to invest in Binary Options. She lost everything and had to move to her parents' house with her children. But thanks to Payback Ltd, she recovered her money and would move to a new home.
Visit payback-ltd.com and Get Your Money Back
---
Contact
Payback's customer service is available 24/7. In fact, there is a chat button on their website with which you can contact a customer service personnel immediately. When you are logged on the website for a long time, you are chatted up by a personnel asking you how they may be of help.
Payback can also be contacted via email at support@payback-ltd.com. They have phone lines in Israel, United States, United Kingdom and Australia. The numbers are as follows:
Toll Free: 1-800077165
Israel: 03-3094596
United States: 1-6469680944
United Kingdom: +44-2382146966
Australia: +61-862445447
When the customer service department is contacted, the claimant is asked series of questions and asked to provide relevant documents to assess the validity of the claim, and also the chance of success. If Payback Ltd believes that there is a high chance of recovering the funds, then the claimant is asked to pay the initial fee and once this is done, the recovery process is initiated.
Payback Ltd have a verified business registration and address in Israel.

Their pricing formula is case-specific and their commissions are relatively low compared to competition.

The team comprises highly skilled professionals with a wide range of experience regarding international banking laws and the scam industry.

In a case where the first attempt fails, the second attempt is free of charge.

They have an international client base.
Visit payback-ltd.com and Get Your Money Back
Payback LTD
CONCLUSION
Payback LTD is a fund recovery platform that allows users to recover their assets or funds from scammers or fake firms. With the intuitive Payback LTD user interface, users can easily secure the services of top-performing professionals on the platform. Payback-ltd.com also offers a range of educational resources and tools to help investors make informed decisions.
---
Tokenhell produces content exposure for over 5,000 crypto companies and you can be one of them too! Contact at info@tokenhell.com if you have any questions. Cryptocurrencies are highly volatile, conduct your own research before making any investment decisions. Some of the posts on this website are guest posts or paid posts that are not written by Tokenhell authors (namely Crypto Cable , Sponsored Articles and Press Release content) and the views expressed in these types of posts do not reflect the views of this website. Tokenhell is not responsible for the content, accuracy, quality, advertising, products or any other content or banners (ad space) posted on the site. Read full terms and conditions / disclaimer.