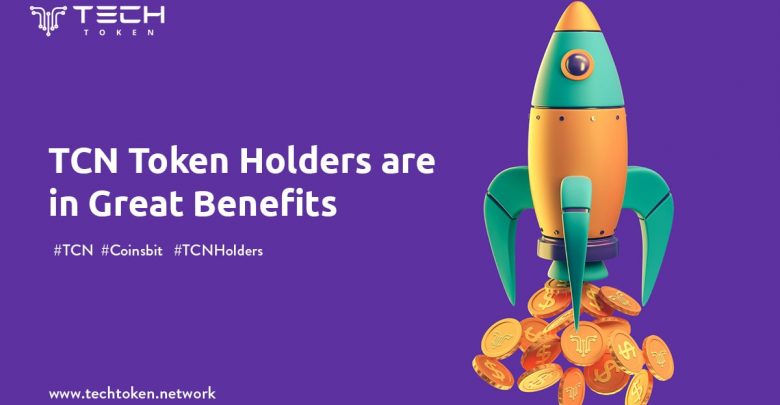 A glance at Tech Token Network and TCN tokens
Tech Token Network into a partnership with Coinsbit exchange platform
TCN token will be listed and start its trading on Coinsbit exchange by 10th May
The standard measures TCN is considering for exchanges to list TCN tokens
Price of TCN tokens to reach $1 right after listing on Coinsbit platform- expert prediction
The new Tech Token Network (TCN) has become the rave of the moment. The rate at which TCN token is penetrating uncharted territories is absolutely incredible! Our project is launched with the prospect of advancing secure transactions on the blockchain network.
We have recently announced the new Tron (TRX) blockchain operating protocol on the Decentralized Finance platform- TechToken.Network. A native token called TCN powered and tokenized this wonderful project.
About Tech Token Network
The Tech Token network is an innovative platform for connecting devices and algorithms to enable collective learning. Our project is intentionally developed on high throughput sharded ledger. Currently, the well-known "TechToken architecture" delivers a unique Tron smart chain contract capability to introduce and improvise blockchain solutions.
The team is focusing mainly on the enhanced decentralized applications for the purpose of problem-solving. The platform is a blockchain-operating DeFi platform built on Tron smart contract. At present, we own a total supply of around 270 million tokens from which the company has the availability of 85% of the supply allocation.
We promise to build a state-of-the-art technology for reliable, secure service which will drive huge customer satisfaction. This is a bait that is dragging a lot traders to TCN for investment and trading. It is a breakthrough achievement.
TCN and Coinsbit in a Partnership
We are overwhelmed to announce our partnership with an exchange platform known as Coinsbit. This platform is the fastest growing exchange in Europe boasting close to 2 million registered and active users.
They currently attain over 10 million monthly exchange traffic with rising 200,000 social network subscribers.
According to the CEO of Tech token network- "TCN is pleased to announce an alliance with Coinsbit to offer creative top-notch trading services. Indeed, we promise you to deliver the best service, improvised technology features, and bring in what the clients deserve the best."
Recently, Coinsbit made a bold statement on their portal about their newfound alliance with the Tech Token Network. They will be listing our TCN token on their platform by 10th May. TCN traders will now be able to trade their tokens with the basic trading pairs which include the BTC, USDT, and the TRX.
Now, that the token has been made available on Coinsbit, we intend to build on that success and increase the number of users and members improving the total volume is already available distribution. We have already planned to form many other alliances with different exchange platforms that are already queuing up to sign the contracts listing that welcomes the TCN token into their armory.
TCN Choses the Best
Tech Token Network complies with the best industry standards, laws, and regulations with respect to offer quality service and value to our clients and stakeholders. This is our very strong selling point which we don't plan to back down from any time. We have sorted the final lists of companies and trusted platforms to list TCN tokens.
With Coinsbit now in the fold, we have now built up a trust capital within the exchange platform. This will help bolster our resolve to keep our reputation among the entire members and community. It will then snowball into a return to help us build an experience base and explore business product activities.
Furthermore, we are looking forward to presenting our credibility, Coinsbit has an exchange token known as CNB which they unleashed on the 1st January 2020. They announced this to help their traders with reduced trading fees and smooth operations on the platform.
In the same vein, the Tech token network has peeped into the future while doing the groundwork also to give our customers the best service we'll ever need by partnering with Coinsbit. They have a unique model of choosing, testing, and reviewing partners before ever engaging them.
What Tech Token Network is Looking for in an Exchange?
The partnership between TCN and Coinsbit is no surprise. Tech Token Network is about every of the necessary thing that anyone who wants to go far in trading should have. Talking about Coinsbit, it is undoubtedly, the succeeding platform to start offering the TCN tokens on their list.
However, other platforms are already queuing up to list our coin among the tokens they have to offer and the rate at TCN is partnering with various listing platforms is loudly deafening. Just be on the lookout, it will not be long before you start seeing them.
We are looking forward to collaborating with the companies offering transparency, reliability, secure transactions, easy user interface, and long-term relationship. These are the basic aspects Tech Token Network is looking out for listing TCN tokens.
Why you are Lucky to Hold TCN Tokens?
The listing of TCN token on Coinsbit is a step in a perfectly calculated direction. Among many benefits that we have been anticipating, the following mouth-watering advantages await us in no distant time:
The user interface of Coinsbit is one of the most user-friendly exchange platforms one can ever think of. You don't need much tutorials to find your way around any stuff you need to carry out

They have a very high trading volume and liquidity pool

Coinsbit offers hitch-free fiat versus crypto exchanges with lightning speed

The major functions of a trading platform are all available on Coinsbit. Talk about discounts, margin trading, high-volume trading, etc, you'll find them there

You are well covered with legality terms by the government

Coinsbit has proven to be transparent in its dealings with its clients

Safety, which is the main need of every crypto trader is well assured on Coinsbit.

Coinsbit was built for reliability and durability. It is a platform one can trust

They offer many payment options and reliable ones. The user can easily opt for anyone with preferences.

They also have direct and immediate fiat currency payment options

Other additional services like digital/cold wallets, banking, crypto debit cards, and the likes are all available on Coinsbit
Tech Token Network has all that in abundance. Our performance so far has been more than encouraging, on the high side. We boast of the best hands in the blockchain sphere with so many other innovative services on offer.
Investors are already licking their tongues with TCN token's price climbing with 40 percent will reach $0.1 range right after it is listed on Coinsbit exchange. The experts also predicted to reach $0.5 range in the next 6 months which is more than 55 percent. By 2025, the price of TCN tokens will cross $7 range as expectation discussed in an AMA session.
To show our transparency and readiness to work with multiple clients, the Tech token network is operating an open-door policy. This is why you find us very active on our social media handles. You can follow us on the different social media outlets mentioned below:
Twitter: https://twitter.com/TCNToken
Reddit: https://www.reddit.com/TechTokenNetwork/
Facebook: https://www.facebook.com/techtokennetwork
Website: https://techtoken.network/
---
Tokenhell produces content exposure for over 5,000 crypto companies and you can be one of them too! Contact at info@tokenhell.com if you have any questions. Cryptocurrencies are highly volatile, conduct your own research before making any investment decisions. Some of the posts on this website are guest posts or paid posts that are not written by Tokenhell authors (namely Crypto Cable , Sponsored Articles and Press Release content) and the views expressed in these types of posts do not reflect the views of this website. Tokenhell is not responsible for the content, accuracy, quality, advertising, products or any other content or banners (ad space) posted on the site. Read full terms and conditions / disclaimer.