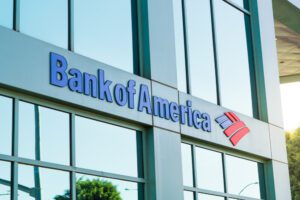 Since 2022, there has been a significant upswing in the progression of artificial intelligence (AI), with many sectors swiftly adopting these breakthrough technologies to modernize and augment their operations. A notable trend has been the rising deployment of AI-driven chatbots, primarily driven by the increasing demand for generative AI platforms like OpenAI's ChatGPT.
Interestingly, the finance realm has been an early adopter of AI chatbot technologies, primarily due to their superior natural language comprehension and content creation skill. This expertise positions them perfectly for tasks requiring substantial resources, such as virtual assistance.
In the panorama of finance-centric AI chatbots, the virtual assistant named 'Erica' from Bank of America (BoA) is especially prominent.
Introduction to Erica
Developed by Bank of America, Erica is a virtual assistant powered by advanced AI. Harnessing the strength of natural language processing, Erica offers realistic human-like interactions, ensuring customers find the support they seek.
Data released by BoA in October 2022 emphasized Erica's extensive user engagement, revealing that over 32 million customers have interacted with this digital aide since its introduction. Erica has become one of America's top AI solutions for banking clientele.
Debuting in 2018, Erica was initially conceived to guide users toward improved financial habits. Currently, she employs sophisticated AI to upgrade account management and offers an adaptive and intuitive service experience to BoA patrons.
Moreover, Erica serves BoA clientele and customers from affiliate banks such as Merrill Edge and Benefits Online. For instance, Merrill clients gain insights about wealth management and investment portfolios through Erica. She can also direct users to Merrill's customer service representatives if required.
On the security front, BoA assures that interactions with Erica meet the highest industry security and privacy standards.
Accessing Erica from Bank of America
To engage with Erica, BoA patrons need to:
Ensure an active Bank of America account.
Install the BoA Mobile Banking app on their mobile devices, available on both Android's Google Play Store and Apple's App Store.
After installation, open the app and sign in.
Look for the stylized "E" symbol on the app's homepage, representing Erica. This icon can be moved around by pressing and dragging.
Initiating a conversation with Erica is as simple as clicking on her icon. Users preferring voice interaction can select the microphone symbol and verbally present their inquiries. Erica responds visually and audibly, while text-only interactions display responses on the screen.
For adjustments, navigate to "Menu" on the app, choose "Profile & Settings," and select Erica Virtual Assistant Settings. Alternatively, inputting "settings" in Erica's chat interface provides a quick link to the settings page.
However, users should be aware that certain features, like the default voice of the virtual assistant, cannot be modified.
Key Considerations When Using Erica
Erica functions only on the latest versions of the BoA Mobile Banking app and is compatible with specific iOS and Android devices. The application might not operate on older devices.
Erica understands and communicates exclusively in English and is designed for use within the United States, with some state-specific limitations.
For quality improvement and reference, Erica records interactions. Voice engagements with Erica are stored for a 90-day duration to improve her auditory capabilities, as per BoA's policy.
Diverse Features Offered by Erica
Erica boasts several valuable functions. A brief overview includes:
Budgeting Support
Erica furnishes direct responses and integrates seamlessly with BoA's financial tools like the Spending & Budgeting tool. This permits users to scrutinize their financial habits and evaluate income versus expenses. The tool also empowers users to set savings objectives.
With Erica's budgetary advice, customers can obtain alerts on atypical spending, especially if potential shortfalls are anticipated due to heavy spending.
Liaison with Customer Service
Erica seamlessly connects BoA patrons with the bank's human support team when required. To engage a BoA representative, users must voice their requests via the Erica interface.
If logged into the BoA application, users benefit from streamlined service, as representatives have instant access to their accounts and prior interactions with Erica, ensuring efficient problem resolution.
Credit Score Notifications
Erica can alert customers regarding fluctuations in their credit scores, which can be ascertained through the FICO Score. This FICO Score service offers complimentary credit score monitoring, enabling clients to gauge their credit standing.
Observing Zelle Transactions
Clients of BoA can leverage Erica to monitor their Zelle transactions. Introduced by BoA in 2017, Zelle is a peer-to-peer funds transfer system. It facilitates the bank's customers to both send and receive funds from domestic U.S. bank accounts. Utilizing the BoA Mobile Banking application or its online banking platform for Zelle transactions incurs no additional charges.
Activation and Deactivation of Credit and Debit Cards
Through the BoA application, Erica grants users the flexibility to activate or deactivate their credit and debit cards. This feature endows card owners considerable control, proving especially beneficial when cards are lost or unauthorized transactions are presumed.
Expanded Features
Beyond the functions highlighted previously, Erica aids users in viewing their monetary flow statistics, balance particulars, and fund transfer specifics. Moreover, it streamlines the process of cash-back rewards redemption and issues alerts regarding repetitive charges and bill settlements. This AI-driven assistant also offers insights to clients exploring options in small business banking.
For individuals with visual impairments, this virtual aide integrates tags compliant with the Americans with Disabilities Act, enabling smoother navigation across the app's sections. Should users activate the ADA Voiceover functionality, Erica's vocal prompts are automatically muted to prevent overlap.
Further AI Innovations from Bank of America
In the recent timespan, the Bank of America has manifested its dedication to propelling the application of AI and analytical solutions in business. The bank has channeled billions into these technologies to sustain its market dominance.
Consistent with this aim, the institution has rolled out a series of AI-driven tools. For instance, in January 2022, the CashPro Forecasting instrument was introduced, leveraging machine learning to refine the precision of prospective cash balance predictions for client accounts.
Even more recently, in June 2023, a distinctive AI utility named Banker Assist was launched. This innovation was crafted to support the bank's personnel in compiling customer insights from the bank's records, thereby enhancing client data analysis and research.
In addition to employing AI to boost operational efficacy and client interactions, the bank has signified its aspiration to employ AI in honing fraud detection by amalgamating behavioral profiling methodologies.
---
Tokenhell produces content exposure for over 5,000 crypto companies and you can be one of them too! Contact at info@tokenhell.com if you have any questions. Cryptocurrencies are highly volatile, conduct your own research before making any investment decisions. Some of the posts on this website are guest posts or paid posts that are not written by Tokenhell authors (namely Crypto Cable , Sponsored Articles and Press Release content) and the views expressed in these types of posts do not reflect the views of this website. Tokenhell is not responsible for the content, accuracy, quality, advertising, products or any other content or banners (ad space) posted on the site. Read full terms and conditions / disclaimer.