Guide
Buy Bitcoin With Credit Card – 9 Best Methods (Updated)
Buy Bitcoin with Credit Card: Crypto fans and traders are always in search of reliable and credible ways to buy bitcoin with credit card instantly.
There are a lot of scammers on the web who are in search of new investors in the crypto world and want to steal your money. But here, you can find the most secure and reliable methods to buy bitcoins. We will hold your hand and assist you in the whole process of buying bitcoin with step by step guide.
Here we have 9 best ways to buy bitcoin with credit card
1 – Coinmama
2 – Bitpanda
3 – Bitit
4 – LocalBitcoins
5 – Binance
6 – CEX.io
7 – Bitstamp
8 – Changelly
9 – Coinbase
How to buy bitcoin with credit card step by step walkthrough
1: Buy Bitcoin with Credit Card on Coinmama
Coinmama came into existence in 2013 with native city Israel. It marked its brand among the famous brokerage service providers of the crypto universe and currently, there are almost one million users are active in 180 different countries of the world.
Coinmama is a broker exchange that offers its users to buy bitcoin with a credit card and charged up to 6% on the whole process of buying. However, the fees are comparatively higher than most of the broker platforms. It makes Coinmama special because the limitation on buying is very high as you can purchase bitcoin of worth $5,000 in one day and $20,000 in a month.
To buy bitcoin using the credit card on coinmama, you need to follow the procedure step by step given below.
Create your Coinmama Account
In the first step, you have to create your Coinmama account by filling the sign-up form. It is mandatory to paste your email and country of your residence.
In the second step, you need to verify your account by providing the necessary information such as passport, ID card number and photo ID.
Select your Payment Method
When going into the section of payment methods, there will be two options listed on the Coinmama: one is a credit card and the other one is a bank transfer. You will select the debit card way of paying for digital assets.
You will select the dashboard of purchasing bitcoin; here you will find the blue button where you can choose your preferred fiat currency. There are following fiat currencies available:
United States Dollar (USD)
Euro (EUR)
Great British Pound (GBP)
Canadian Dollar (CAD)
Australian Dollar (AUD)
Coinmama does not offer the facility of creating BTC a wallet, therefore, you need to encode your wallet address on which you want to receive your digital gold.
Finally, you will need to provide the credit card information and place your order.
Buy Bitcoin with Credit Card on Coinmama
---
2: Buy Bitcoin with Credit Card on Bitpanda
Bitpanda company was founded in 2014 and started its operations in Australia. It is the best platform for buying and selling bitcoin and various other cryptocurrencies for European crypto traders and investors. If you are living in European countries then it is an excellent service provider to buy bitcoin with cheapest rates.
Firstly, you have to select the option "Buy Cryptocoin" where you will find the subsidiary 3 options:
Step 1: Select a Cryptocoin
In this section, you will select the button of "Bitcoin"
Step 2: Choose the payment provider
Now, it's time to use the payment method by clicking on the Visa/MasterCard button.
Step 3: Choose amount to spend or receive
In this portion, you will choose the amount that how much you want to spend to buy digital gold.
This is a step of finalization, you should check the amount again and also other details such as current price, amount to pay, receive BTC, payout and payment provider. Bitpanda will give you only 60 seconds to confirm the exchange rate.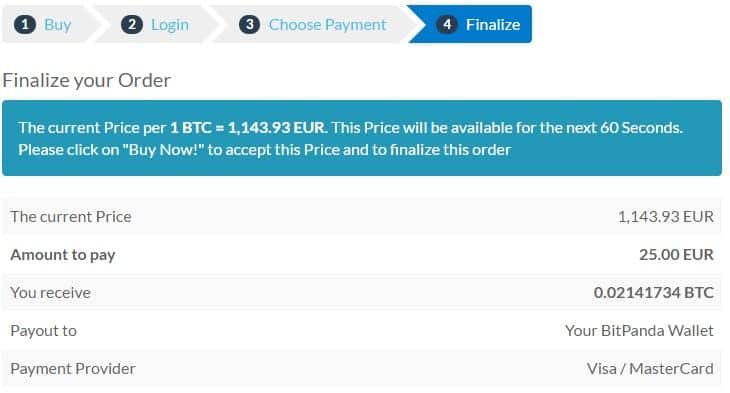 After confirming the deal, you need to verify the confirm trade either through SMS or call. This is additional confirmation on the part of Bitpanda that is very necessary for security purposes.
You will receive a code through SMS and then you will paste this received pin code in the verification box.
After a successful verification through SMS or call, you will get the notification of "Order Successful" and an email of confirmation will be sent to your email address.
You can now press the button of "Click here to start the payment process" to proceed further. You just have 10 minute time to make your order with the payment method of credit card otherwise your order will be automatically canceled.
You will provide the required data of the card utilizing the mPay24 as you can see in the given picture below. After filling the form, you can now click on "Bezahlen".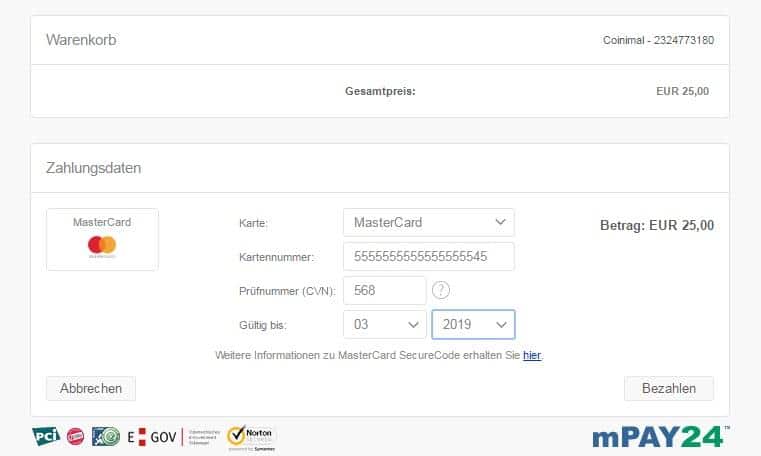 Congratulations, you have successfully made a trade using your credit card or debit card. You can check the history of a trade by clicking on the tab of "Trade History".
Buy Bitcoin with Credit Card on bitpanda
3: Buy Bitcoin with Credit Card on Bitit
The fees charged by Bitit when buying cryptocurrency with credit cards can reach up to 6.99%; this fee structure is very handsome as compared to the other paying methods on Bitit. The platform has roots in more than 50 countries and it is an efficient platform for European users; customers from European countries have a wide range of payment methods.
There is a wide range of fiat currencies available on the platform that includes USD, NOK, SEK, TRY, HKD, SGD, EUR, GBP, JPY, CNY, KRW, AUD, CAD, and DKK.
Create Your Account
The first step to start your journey to get bitcoins is to register your account.
From the list of digital assets, select the "Bitcoin" and choose the credit card option as a payment method.
Complete all steps and you will get your BTC in the wallet.
Buy Bitcoin with Credit Card on Bitit
4: Buy Bitcoin with Credit Card on LocalBitcoins
LocalBitcoins is a marketplace based on the peer-to-peer network that came into existence in 2012 by Nikolaus Kangas. LocalBitcoins charged its users for creating advertisements for trade but buying and selling of bitcoin is totally free on the marketplace. There is a wide range of payment methods listed on platform besides the credit card option.
The limitation on buying varies and depends upon the verification level:
V1: Name+ country+ email+ phone number= €1,000/year
V2: V1+ physical address+ ID and KYC verification= €20,000/year
V3: V1+ proof of residence= €200,000/year
V4: V2+ extra ID verification= unlimited
The striking feature of LocalBitcoins is that it tracks the locality of sellers and buyers and helps its users and customers to make a deal within a particular region. It has access to more than 200 different countries but there is a restriction on the following countries due to some regulatory problems:
Create Your Account
To start with LocalBitcoins, you need to register your account as a new user by giving your Email and creating a strong password with a username that you want to display on LocalBitcoins.
There are four bars on the top menu of the site for amount, fiat currency, country, and payment method. Choose the "Credit card" from the list.
When you press the 'Search' tab, a list will appear where you can select your favorite deal that will suit you best.
Before making any decision to make a trade with any trader; you should check the trading volume, number of confirmed trades, feedback score and trust score of the seller.

Write down the amount in fiat currency how much you want to buy bitcoin and then click on "Send trade request" using the credit card.
Buy Bitcoin with Credit Card on Localbitcoins
5: Buy Bitcoin with Credit Card on Binance
Binance is one of the largest crypto exchanges by market volume and more than one hundred different crypto coins are supported for deposit and withdrawal. Binance has made a strategic partnership with the Simplex to buy six cryptocurrencies by utilizing the credit card; however, the fees are very high as it may reach up to 3.5%.
Binance has limits while withdrawing digital assets. One can withdraw two bitcoins per day with a non-verified account and withdraw up to one hundred bitcoin with a verified account.
The following features make Binance very special:
Low trading fees
Multilingual support
Wide variety of currencies
brokerage service
Register on Binance
The first step to start your journey with Binance is to register your free account on Binance. You have to provide your mail address with a strong and complex password.
After login with your email, the next thing is to deposit your funds with the payment method. On selecting the tab "Funds" on the main menu of the Binance site, select the button of "Buy with Credit Card" on binance.
There will appear two bars: in the first bar, select the cryptocurrency you want to buy such as BTC and the total amount of order, the second bar will display the fees on service you want from the exchange.
The notification will pop-up to confirm your order, check out the data and read the disclaimer. Once you are satisfied with the terms, click on "Go to payment" to proceed further.
Binance has recently collaborated with Simplex to prevent itself from any kind of scam or breaching attack. Therefore, you need to provide full personal information on the verification form.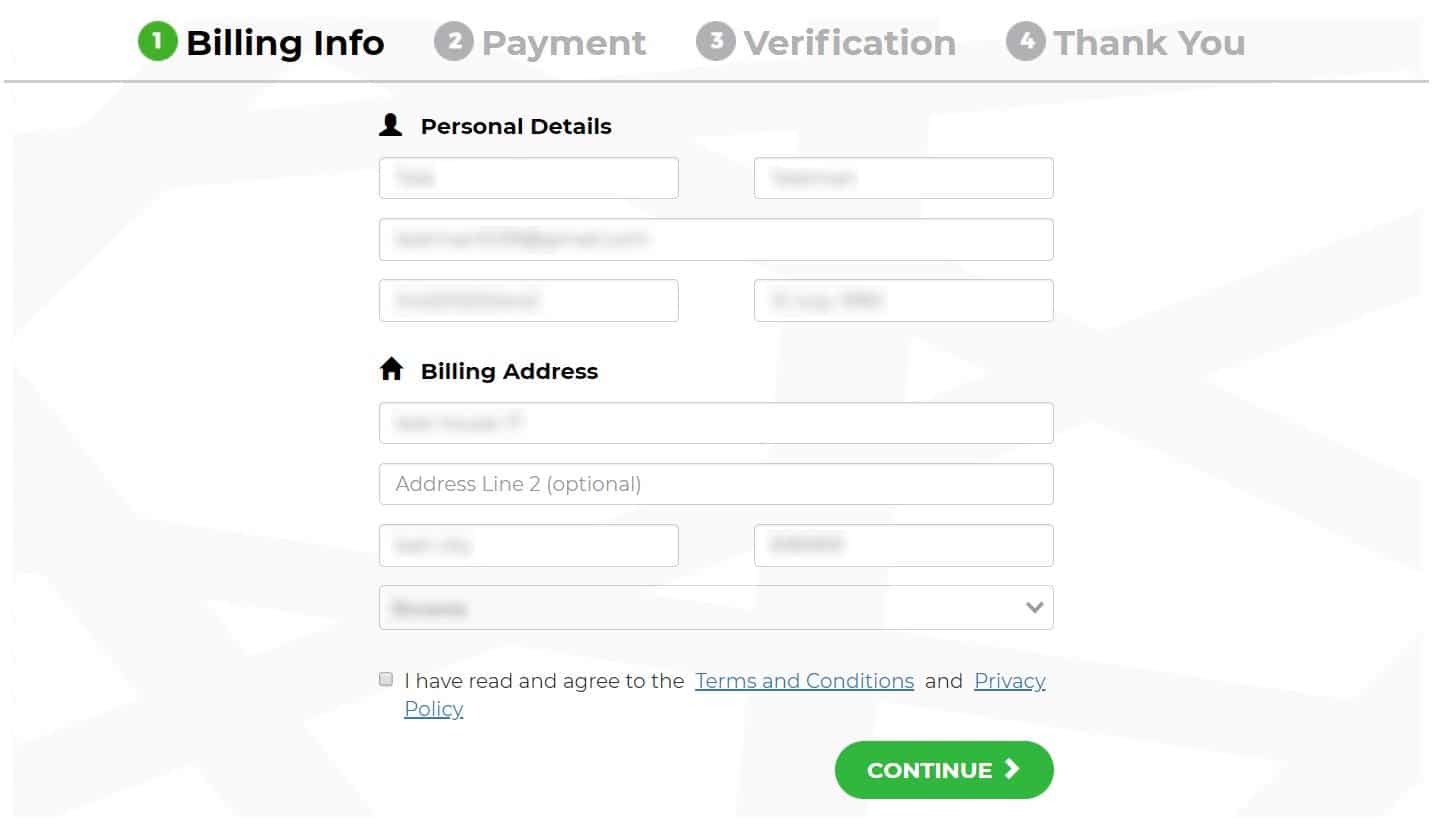 In the "Payment" section, you will provide the required data about your credit card; after the verification of identity, you will get the BTC.
Congratulations, you have successfully completed the procedure to get BTC.
Buy Bitcoin with Credit Card on Binance
6: Buy Bitcoin with Credit Card on CEX.io
CEX.io came into the markets of digital assets as an exchange and a cloud mining startup but it closed its setup of cloud mining in 2015. It is a prominent exchange and trading platform in the sphere of cryptocurrency.
The rates charged by CEX.io for services are high as compared to most of the exchanges. A frequent complaint raised by a number of users is that it cuts hidden fees without telling. They charged up to 7% on trading services and the most expensive option of buying crypto is through credit cards.
The following fiat currencies are accepted:
Create your Account
For buying bitcoin with a credit card, the first and foremost step is to register on CEX.io. There are two ways to open your account on CEX.io; one is putting your email address with a strong password and the other one is using social media IDs such as Telegram and Facebook.
After submitting the basic details, your account will be created. You will have a period of 24 hours to confirm your email.
The next strategy is to carry out the process of verification for security as CEX.io is very secure and reliable for new traders as well as professionals.
The following information is necessary for verification:
ID authentication
Personal Info
Residential and permanent addresses
Scanning of important documents
After registering on CEX.io, it's time to buy bitcoin using your Visa or MasterCard.
Click on the "CARDS" and there will open a dashboard where you can add your credit card by clicking on "Add new card". It will normally take 2-3 days for the confirmation of card and after that; you will be able to buy digital gold.
Now it's time to give info about your credit or debit card.
Perfect, you are now ready to buy BTC and start your trade.
Buy Bitcoin with Credit Card on CEX.io
7: Buy Bitcoin with Credit Card on Bitstamp
Bitstamp has updated its entire system and cover up with the strong layer of security; it was hacked in 2015 and almost 19,000 BTC scammed by hackers. It is the best platform for European citizens because SEPA bank transfer is active on the Bitstamp.
The trading fees are relatively low but it depends on the amount you are going to spend. Bitstamp deducts 0.25 % when trading below $20,000 while it charged only 10% when amount is above $20,000,000. Buying through credit cards is very costly as there are 8% fees when depositing amounts below $500.
There are four different kinds of orders you can place on Bitstamp which are the following:
Instant

Stop

Limit

Market
Signing Up
To buy bitcoins utilizing your credit card, you need to create an account on Bitstamp. There will be two options; one is for personal use and the other one is for big firms and companies. Select the "Personal account" as you are going to utilize it for personal use only.
To secure your account with 2-factor authentication, navigate to the main dashboard and select "Security".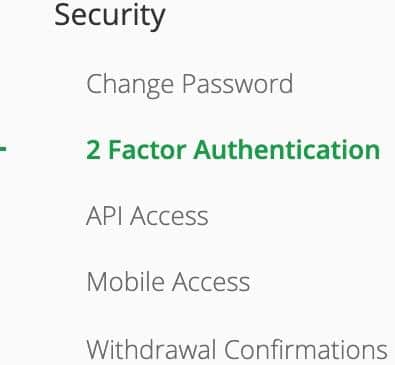 The Google authenticator should be installed so that it could attach with the Bitstamp through six digits code: this will add another wall of security.
Select the 'Deposit" tab from the main menu of the website. There are almost 6 different cryptocurrencies are listed and there are two fiat currencies (USD, EUR) are available to buy those digital assets. Select the "Credit Card" from the left corner to buy BTC.
You can only buy bitcoin with a credit card and there is no option of sending your funds into the credit card.
Buy Bitcoin with Credit Card on Bitstamp
8: Buy Bitcoin with Credit Card on Changelly
Changelly is an anonymous exchange that facilitates in a simple, fast and anonymously way. The fees for all kinds of trades are the same and count almost 0.5% that is very fair as compared to most of the crypto exchanges. However, when buying crypto through credit cards, the fees are comparatively high.
The prominent wallets that are integrated with Changelly include Ledger,Exodus, Jaxx, Coinomi, and TREZOR. If you wish to buy bitcoins using a credit card, there is a limitation:
1st Transaction: $50-$10,000
Daily limit: $20,000
Monthly limit: $50,000
Register your Account
If you want to buy BTC with the credit card, the first step is to sign on Changelly by giving your basic info including email address.
Write down the amount you want to purchase the bitcoins by putting the value in the left box as seen below in the given picture below. Secondly, paste your wallet address where you want to keep your cryptocurrency. Read all the information carefully and press "CLICK TO CONTINUE".
A new user will have to provide further details for the verification process. Here you will have to give the basic details and billing address such as city, zip code, residential address, and country of residence.
Changelly has partnered with Simplex to make the platform more secure and to prevent its customers from any kind of scam or malicious attack. Verify your phone number and Email to proceed further.
It's Time to Use Credit Card
In the page for "Payment", add necessary details of the credit card; after filling the form, click on the "pay now" to move towards the final section.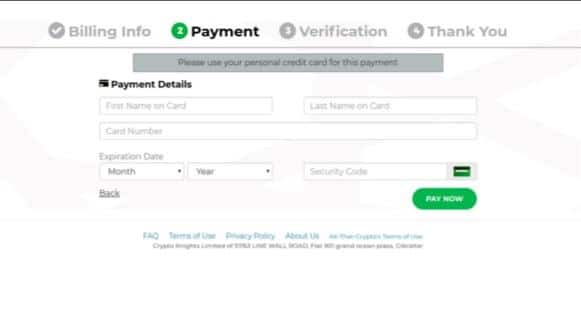 Upload a selfie while holding the card in your hand. For safety, hide the 8-digit number with your fingers.
Congrats, you have successfully done your part, it takes some time to verify payment; after that, the BTC will transact to your wallet.
Buy Bitcoin with Credit Card on Changelly
9: Buy Bitcoin with Credit Card on Coinbase
Coinbase is one of the oldest exchanges founded by Brian Armstrong and Fred Ehrsam in 2012. Coinbase created its own mobile wallet for Android and iOS users in 2018. Through this wallet, the traders and investors have full access to their funds and can also store private keys.
The main drawback of Coinbase is that it provides the facility of purchasing digital assets through credit cards only for US users and customers.
Coinbase's fees for purchasing bitcoin with a debit card or credit card are very low as compared to others and may go up to 3.99%. But the limitation on buying is very low when using a credit card. There are no fees when depositing the funds on the exchange but deducted charges when purchasing the cryptocurrency.
The first requirement to move towards your destination is to sign up on Coinbase. Three things you will paste: your full name, Email, and a secure password.
Go to the "Payment Methods" section which is present in the right upper corner as represented by the black arrow in the image given below.
After switching the button on the right corner, now you will press the button of "Add payment Method" as seen below in the picture.
You have to deliver all the important information about the card such name on card, card number, CVC number, etc.
When clicking the "Next" after putting the data; another tab will open where you select "Buy/Sell" to go to the next procedure.
You will have to note down the number of BTC, you are interested to buy after selecting the "payment method" and your wallet.
The next page will open and labeled as "Instant Buy Confirmation"; after a quick view of the details, click on the "Confirmation" to carry out the transaction.
Buy Bitcoin with Credit Card on Coinbase
Frequently asked questions
What things should be kept in mind while buying bitcoin with credit card?
The platform should have a good reputation and strong support so that they should be available whenever an issue encounter to users or customers. One should check the public reviews and opinions before funding on any platform using the credit cards.
What are the benefits of purchasing BTC with credit cards?
It is the easiest and fastest way of buying bitcoin especially for those who have addiction for purchasing things online.
Is it necessary to keep your crypto in safe wallets?
We recommend you to store your funds in the wallets which are controlled by you.
Which is the expensive method of buying bitcoin?
Purchasing BTC with credit cards is relatively more expensive than other methods.
Want to buy bitcoin with  Paypal? we have a detailed guide on 7 Best ways to buy bitcoin with paypal with step by step guide
Buy Bitcoin with paypal Step by Step Guide
Want to know Best Ways to buy Lisk Coin ?   Complete Guide on 5 Best ways to buy Lisk Coin and Best Wallets to Store Lisk Coins
5 Best ways to Buy Lisk Coin (updated) – Ultimate Guide 2019
You may Like 15 Best Cryptocurrency Exchanges ?   We have a Complete Guide on Best Cryptocurrency Exchanges with fee structure and all details
15 Best Cryptocurrency Exchanges 2019 Comprehensive Review
Want to Know How to Earn Bitcoins 2019?  we have a Complete guide on 15 Best ways to Earn  Free bitcoin
---
Tokenhell.com produces top quality content exposure for cryptocurrency and blockchain companies and startups. We have provided brand exposure for thousands of companies to date and you can be one of them too! All of our clients appreciate our value / pricing ratio. Contact us if you have any questions: info@tokenhell.com. Cryptocurrencies and Digital tokens are highly volatile, conduct your own research before making any investment decisions. Some of the posts on this website are guest posts or paid posts that are not written by our authors (namely Crypto Cable , Sponsored Articles and Press Release content) and the views expressed in these types of posts do not reflect the views of this website. Tokenhell is not responsible for the content, accuracy, quality, advertising, products or any other content posted on the site. Read full terms and conditions / disclaimer.